Nearly 20,000 demonstrators stormed the streets of downtown Raleigh, North Carolina Wednesday to advocate for increased funding for education.
In the wave of red-clad marchers, the vast majority were women.
Teaching has been a primarily female dominated profession since the mid-20th century. In the 2011-2012 school year, women made up about 76 percent of public school teachers in the United States .
Studies show that as a profession shifts to become primarily female dominated, the overall compensation for that profession tends to decline. For example, jobs in recreation, like working in parks systems or camps, became predominantly female between 1950 and 2000, and during that gender shift median hourly wages went down 57 percentage points.
The reverse is true for professions that have moved from predominantly female to predominantly male. Computer programming used to be considered menial work and was mostly done by women. When men began entering the field in droves, programming became much more lucrative.
Findings like these make it hard not to wonder whether education would be valued differently if it was a male dominated profession.
Rallying In Raleigh
Liz Parker, a teacher from Hominy Valley Elementary, said she and a group of her fellow teachers attended the rally to advocate for funds to help their students.
"We're here because of outdated textbooks, problems with buildings," she said. "We're here because our schools need more counselors and nurses because we're meeting all the students' needs, not just the academic ones."
She still thinks North Carolina schools are great, but only because teachers work 10 times harder than they should have to to overcome the issue of low-funding.
"You certainly wonder, would the funding be better in male-dominated fields?" Parker said. "Do they assume that when teachers raise their voice to speak out about real problems it's because we're girls and we're whiny?"
The May 16 protest in Raleigh prompted the closure of 42 school districts in the state in anticipation of North Carolina's largest-ever organized political action by teachers, sponsored by the North Carolina Association of Educators.
North Carolina ranks low when it comes to teacher pay. Teacher salary in the state was ranked 39th highest in the country in 2017 by the National Association of Education. The NEA estimates N.C. will rise to 37th highest in 2018.
The demonstration began with a march to the N.C. Legislature to petition the General Assembly to increase school funding on the first day of this year's legislative session.
Three thousand teachers funneled into the building, with the rest occupying the Bicentennial Plaza, an area flanked by state's natural science and history museums, common field trip destinations for North Carolina students, and a fitting site upon which to demand a higher value be placed on public education.
Donned in #Red4Ed, the sea of protesters stood resolute even as rain poured down on them. No matter — they merely slapped on ponchos and recommenced their sign-raising, marching, and chanting.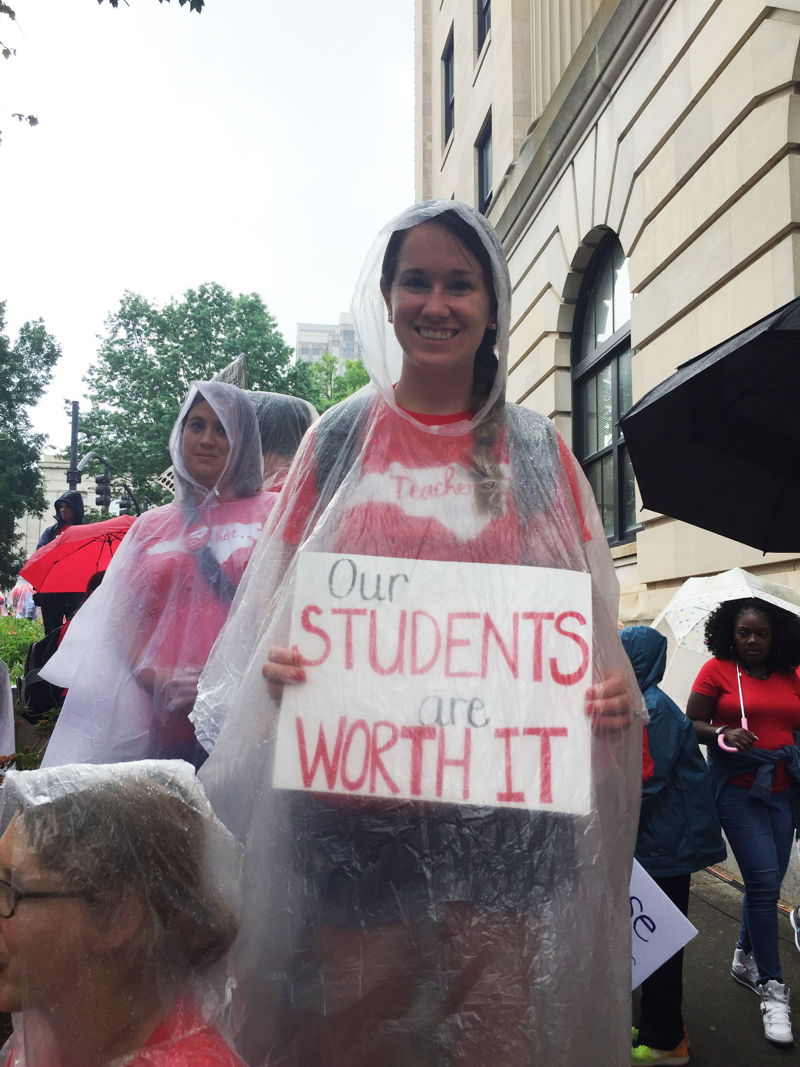 A National Movement
North Carolina's teachers are not alone in their efforts. Their demonstration feeds off the momentum generated by protests and strikes organized by teachers in West Virginia, Oklahoma, Kentucky, Colorado, and Arizona earlier this spring.
Although these previous strikes did not achieve all of their goals, all have yielded significant victories.
After striking for two weeks in West Virginia, the state's teachers have received a 5 percent salary raise for next year and the promise of a health care task force by the Legislature.
A nine-day walkout in Oklahoma resulted in a $6,000 raise for teachers and a $1,250 raise for support staff.
After two days of teacher rallying, Kentucky lawmakers voted to override the governor's veto of their two-year budget which calls for increased education spending.
In Colorado, a Republican lawmaker introduced a bill to prohibit striking in response to the mobilization of the state's teachers, but public backlash and increased plans for walkouts prompted him to revoke the measure.
Following initial strikes, Arizona's governor promised to increase teacher pay 20 percent by 2020 and has petitioned the Legislature to support his goal.
Despite criticism from lawmakers in states that have done walkouts, data shows that the public overwhelmingly supports the teachers' cause. According to a recent survey conducted by The Associated Press-NORC Center for Public Affairs Research, 78 percent of Americans agree teachers in this country are underpaid.
Dawn McCormick, an art teacher in Wake County, which has an InHerSight score of 2.5, said she protested at the N.C. Legislature about this time last year.
"They were talking about cutting positions for art, music and P.E. in order to fulfill the unfunded mandate for smaller class sizes," she said. "They use smaller class sizes as a talking point while continuing to underfund education and cut education funding."
Wake County kindergarten teacher Jeanne Duwve said North Carolina is dismantling public education in favor of increasing the number of charter schools and expanding voucher programs.
"All they're really working to do is resegregate North Carolina," Duwve said. "While they can't draw a colored line, they will draw an economic line."
School resegregation has gained attention as a growing problem in U.S. schools.
According to the U.S. Government Accountability Office , both the percentage of K-12 public schools in high poverty and the percentage of schools made up of mostly African-American or Hispanic students more than doubled from 2000-2014, rising from 7,009 schools to 15,089 schools.
In that same period, the percentage of schools that are considered to be "isolated schools," or containing 75 percent or more of students of the same race or class, grew from 9 percent to 16 percent.
Isolated schools tend to be more underfunded than non-isolated schools, and have fewer resources for students.
A teacher in the N.C. Exceptional Children Division, which teaches students with disabilities, said her students are especially underfunded. She often has to make up for the difference out of her own pocket.
"I have 12 kids in my class in a low-income school so parents really don't provide a lot materials so I have to provide things like pencils, snacks, even extra clothes for the students," she said.
As clamors across the nation for greater investment in education grow louder, not only is there demand for policymakers to finally recognize the value of America's students and teachers, but also the value of women's labor that drives public education.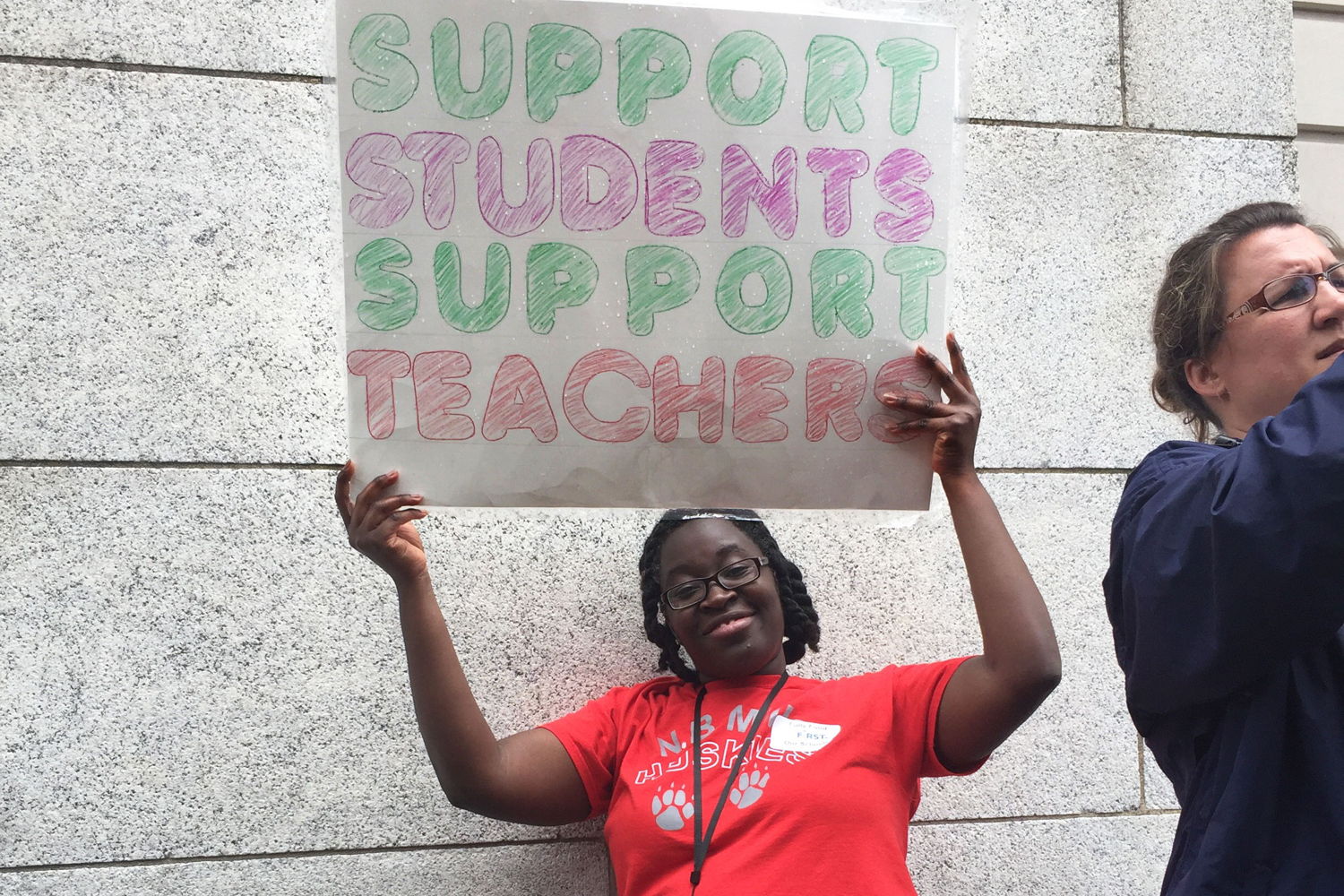 By Mitra Norowzi